TRAINING SERVANT LEADERS TO MAKE DISCIPLES
Our Graduates Are Making Disciples Through Cross Cultural Missions and Evangelism,Pastoral Ministry, Working among Women, Youth and Children, Theological Teaching and Training.
Missionary Project Committee is a significant ministry of Jubilee that aims to help missionaries who are in need. Fundraising is to be done within the jubilee community. All are invited. 
read more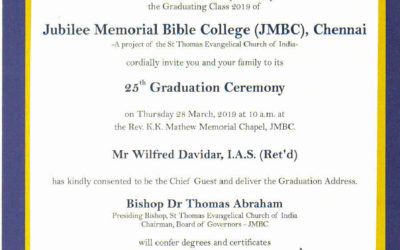 The 25th Graduation ceremony will be held on Thursday 25th March 2019 10:00 AM at the Rev. K.K. Mathew Chapel on JMBC campus. Chief Guest, Mr. Wilfred Davidar I.A.S (Retired) will address the graduates. The St. Thomas Evangelical Church of India's Presiding Bishop Dr....
read more